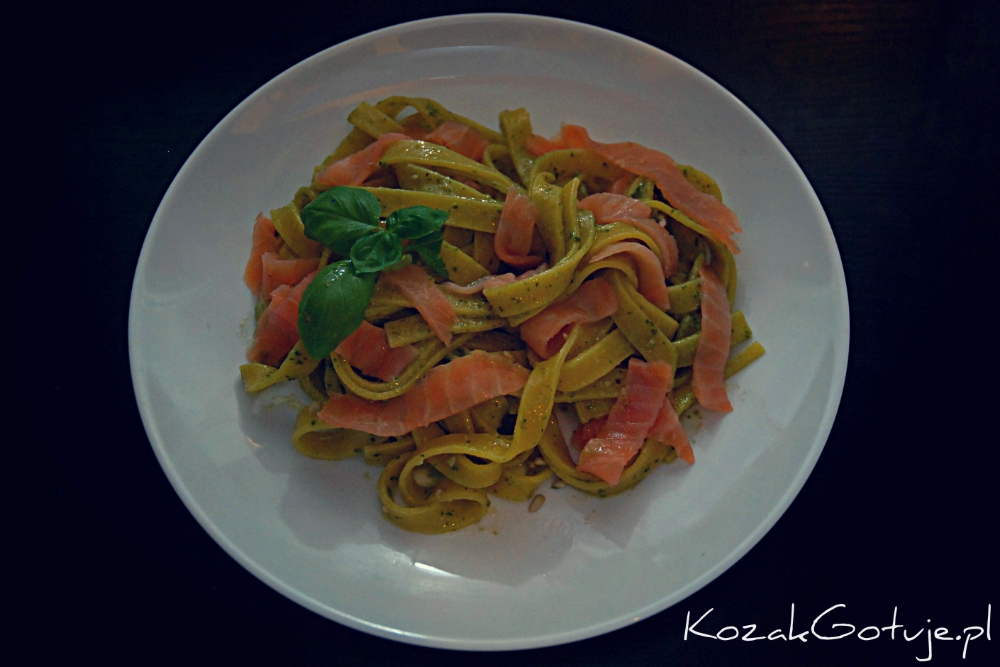 Makaron z pesto i łososiem to świetne rozwiązanie na szybkie przygotowanie obiadu.
Niestety kupienie makaronu, w którym jest choćby kilka procent prawdziwych jajek to sztuka. W większości produktów nie znajdziemy ich w składzie, albo będzie to jedynie proszek jajeczny. Prawdziwy jajeczny makaron możemy znaleźć w dobrych delikatesach, niestety jest dość drogi.
Tymczasem w Lidl'u udało mi się dostać świeży makaron! Trudno stwierdzić, czy to stała, czy sezonowa oferta. Makaron o "Nonna mia" czyli "Moja babcia" kosztuje niewiele (2,99 zł), ma naturalny skład i zawartość prawdziwych jajek. To widać i czuć, gdy się go ugotuje. Co ważne, jest świeży, nie suszony! To nadaje mu zupełnie inną konsystencję po przygotowaniu i wymaga zaledwie 3 minut we wrzątku.
Naprawdę polecam. W połączeniu z bazyliowym pesto i łososiem może być idealnym, lekkim posiłkiem, którego przygotowanie zajmie mniej niż kwadrans.
Przygotowanie:
Makaron gotujemy według instrukcji na opakowaniu.
Łososia kroimy na kawałki.
Ugotowany makaron mieszamy z pesto i łyżką wody, w której gotował się makaron.
Na makaron kładziemy kawałki łososia i dekorujemy bazylią.
Makaron z pesto i łososiem gotowy! Smacznego :-)